(1)研究されているテーマについて
「持続可能な社会(sustainable society)」「持続可能な開発(sustainable development)」を研究テーマとされているようですが、主にどのような問題に関心を持たれ、研究されていますか。もう少し詳しく教えてください。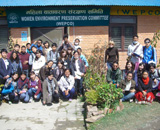 Women's Environmental Organization in Nepal
My research focuses on women's roles in sustainable society, particularly in developing countries. Over the past 10 years I have been conducting research in Nepal, taking my students as part of the Nepal Japan Project. I partner my students with Nepalese university students, and together we research and conduct various activities related to sustainable development, such as tourism, farming, and small businesses that women are doing in Nepal. I have also begun research in Jamaica connected to women farmers and the challenges they face. As we know, women are the cornerstone of both the family, and society. To achieve a sustainable society women must be empowered and have opportunities to achieve.
先生の主たる研究活動はどういったものですか?
文献を読み込む、フィールドワーク、実験、データ解析など、先生の研究領域にとって主となる、あるいは特徴的な研究活動の様子を教えてください。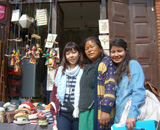 Researching on women's business activities in Nepal
I believe field research is most important, because we can observe, and gather information through the voices of the people. But before I conduct field research, I read important background information, then, I consider the gaps or what is missing in the research. From this point I develop a questionnaire which I use as my research tool. I always try to include my seminar students in my research activities, so together with my students we develop the questionnaire and conduct the research.
(2)研究の成果について
このような研究から、どのようなことが分かるのでしょうか。また、これまでの先生のご研究からどのような成果があがっていますか。
Through my research I have learned that women are often the "change-makers" of society. If women are educated, they can be empowered to improve their lives, and the lives of their families. In my research I found that many women in developing countries create a network or cooperative and borrow money in order to begin their businesses. This results in self-confidence, and also greater respect from community and family members. My students and I have conducted workshops to help women, based on our research results. We have also taught their children about how to protect the environment so that their future will be better.
社会・環境問題(social and environmental issues)に関心を持ち、将来、社会や人の役にたちたいと考える高校生は多いです。高校生が興味を持ちそうなことがありましたらお教えください。
There are various environmental and social issues in the world today; however, we cannot address all these issues. But it is important to look around with a critical eye and think about what small action each of us can take. For example, there are various issues related to gender. Animal rights and environmental justice are also important social and environmental issues which connect to sustainable society. It is important to study issues from all perspectives (all sides) so that you have a deep understanding.
(3)研究と社会との関わり
こうした研究は社会とどのような関わりがありますか。Nepal Japan Projectや、その他学会活動や社会活動など、研究を通しての人々との交流などについて何かありましたらお話しください。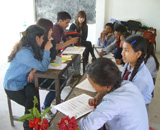 Children's educational program led by my seminar students and Nepal Japan Project Team members
Based on my Nepal Japan Project, I have created a large social network which includes students, professors, NGOs, and various educational and environmental institutions. For example, when students go to Nepal they have opportunities to work with their partners, local and international NGOs, and they also have opportunities to take leadership roles in environmental activities for Nepalese children. Over the past 10 years the network has been growing. My students continue to communicate with their partners and with people in NGOs through social media. This network provides a great opportunity for students to share their knowledge and interests, and the contacts are valuable for job hunting.

(4)学生に伝えたいこと
大学での授業やご指導を通して、学生にどのようなことを伝えたいとお考えですか。そのために何か工夫したり、企画したりしていることはありますか。
また、「エコ推進連絡会」で活動されているようですが、その取り組みなどについて教えてください。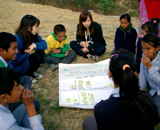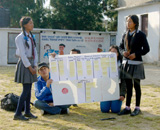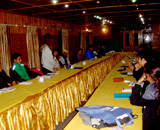 Student discussion and presentation
University years are a time to grow and consider your future. I believe classes at university should build students skills and strategies so that they can take leadership in the future. In my seminar, students have opportunities to lead through small research projects and activities. For example, my seminar students collaborate on campus environmental projects, including composting and a green curtain project. We also participate in seminars at the United Nations University in Tokyo, and they organize educational activities for Nepalese students who come to Japan each summer through my Nepal Japan Project. These activities provide my students opportunities to meet new people, as well as build skills and strategies which they can use in their careers in the future.
(5)先生の学生生活
先生ご自身の学生生活はどのようなものであったかを教えてください。
University life introduced me to a new way of thinking about the world, and provided me with challenges, both academically and socially. As I did not have a clear plan about my career, I took courses in both sciences and liberal arts. I believe this gave me a strong base for my life and my career. I lived in a dormitory in my first year and this gave me an opportunity to meet students of many nationalities. As a Canadian, attending a Canadian university, I had a strong sense of a multicultural society. This prepared me for the global society I live in today.
また、その経験を踏まえ、今の学生たちに学生時代をどのように過ごしてほしいと思いますか。特に、こうしたことをお勧めするといったアドバイスがありましたらお願いいたします
University is a time to expand your thinking, learn about yourself, and explore opportunities for the future. It is important to challenge yourself; work hard and aim high, academically. One of the best ways to learn is to talk with professors outside of class. In this way you can get advice and also join their research activities. Of course social activities on campus and study abroad programs are important and fun. Most important though is to set goals during your university life and try to achieve them.

(6)研究を始めたきっかけ
研究を始められたきっかけは何でしょうか。また、何かエピソードのようなものがありましたら教えてください。
My research in Nepal began unexpectedly. I went to Nepal to volunteer, giving language education workshops for Nepalese teachers. While there I learned about the issues related to poverty, particularly for women in rural Nepal. I met many people who were illiterate, but had so much knowledge to share. From this point I decided to take my students to Nepal and begin my research.
(7)研究の醍醐味
先生が研究者になってよかったと感じた出来事、あるいは、これぞ研究者の醍醐味といった瞬間はどんなものですか。
高校生に研究することの楽しさを伝えるという意味でおうかがいいたします。
I have had many rewarding experiences while conducting research. One example is connected to a handmade recycle paper business, owned by two women in Nepal, who were very poor. My students and I gathered information from the people who bought their recycled paper, and after analyzing the information we found that most of the people were not satisfied with the recycled paper products because the paper was too thick and not uniform in size. Based on this problem we investigated Japanese "washi" paper and learned about the technology and techniques in making paper by hand. Because my students and I showed such motivation, the Japanese company donated several pieces of equipment and chemical ingredients to take to Nepal. After the women adopted the techniques and used the equipment, the sales of their paper rose continually and their product line expanded. This experience taught me that even though we may not know very much about how to create a product, we can find the solution and contribute to improving the quality of a product, and ultimately, improve the lives of local people.
(8)先生の今後
今後の先生のご研究の方向性や目標などについて教えてください。
My research in the future will include sustainable food sources and food security. Recently there is a movement to support local farm produce, but on the other hand, there are few young farmers to support this trend. Also due to globalization, consumers now have many choices. Therefore, I would like to research how sustainable agriculture can be achieved and the role media plays on consumer choices.